When you need lightweight, medium hold and no-shine, our MATTE CLAY POMADE is the one for the task at hand. Developed over 4 months with input from 100s of clients, it's ready. With an easy scoop and breakdown, application of this product is a breeze with the same restyling you've come to expect from Samson's Original Pomade. 
3 oz
Water based
Nourishes and holds hair
Matte finish
Ingredients: Water, Microcrystalline wax, Beeswax, Candelila wax, Bentonite clay, Kaolin clay, Mango butter, Grapeseed oil, Apricot kernel oil, Polysorbate 20, Essential oils, Sorbic acid, Cetyl alcohol
Customer Reviews
11/23/2020
Curtis H.
United States
One of my new favorites
This stuff is great! The scent is very good and familiar... can't place it, but I know I have smelled something similar to this before. Application is super easy - soft, creamy, and doesn't tug and pull despite the wax in the formula. Styling is super easy! The formula is light weight, yet strong, so you get volume and strength in one. The finish is matte, not much shine, if any at all. It holds all day and washes out extremely easy with no residue... and my hair feels extremely soft after using it, not dry like after using most water based products. Looking forward to trying the pomade now!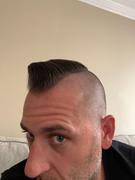 07/22/2020
Gonzalo R.
Mexico
A true clay pomade
This product does what it says. It looks and feels like a clay but styles like a pomade. It's lightweight, intuitive, and has a beautiful neutral finish. As for the scent, I find myself smelling the jar at least twice a day - it's so good! Last but not least, I can't think of better people than the guys behind Samson's. Theirs is a brand I love supporting.
06/25/2020
Gina
United States
Surprisingly light and the scent is to die for!
Ordered on 6/10 and delivered on 6/15 First off, that scent? Wow. Wow, wow, wow. I loved it so much that by the end of my first week using the clay I bought a solid cologne. This reminds me a lot of the OG Arcadian Clay Pomade in regards to how creamy/slick it is. Quite surprised how not-sticky and tug-and-pully it, as I assumed, with the first three main ingredients being wax. The wax content does give it a natural shine, it's not a true dry matte, especially on second day hair. A bit dissapointed with the texture, with both clays I was hoping for that and the product javing some dryness/grittiness. Overall, I think it's great product despite some slight slight dissapointments with how I thought it would work. The handwritten notes you get are so nice. Again, that original scent *chefs kiss* (Photo is with first use)
06/06/2020
Lisa B.
United States
Matte Finish Clay Pomade
Absolutely amazing product! Highly recommend.
WW
05/25/2020
William W.
United States
Best clay pomade
This product left my hair feeling great and looking really good. No problem washing it out and it holding well all day. The customer service is great and is like non other company you can purchase from. Their attention and personal detail of packaging and communication is incredible. They email you when it's on it's way, when it's out for delivery and then a final email when it's delivered. They goto great lengths it seems to keep you informed of where your product is at and when it is arriving. If you have never ordered before give them a try you will not be disappointed.